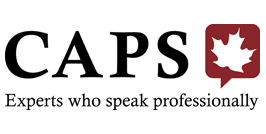 The Canadian Association of Professional Speakers
Website: www.canadianspeakers.org
Type of Organization: Member Association
Target Membership: Professional Speakers, Trainers and Facilitators
Membership Qualifications: Application Process
Recognized Designations/Certifications: CSP – Certified Speaking Professional; HoF – Canadian Speakers Hall of Fame
Chapters in Canada: Atlantic; Montreal; Ottawa; Toronto; SW-Ontario; Manitoba; Saskatchewan; Edmonton; Calgary; and Vancouver & BC.
International Affiliations: Member of the Global Speakers Federation (GSF)
Annual Convention: Held in various cities around Canada in December.
Description: 
CAPS is an association of professional members who share their expertise using the spoken word.