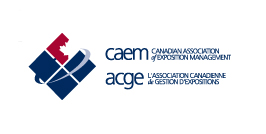 Canadian Association of Exposition Management (CAEM)
Website: www.caem.ca
Type of Organization: Member Association
Target Membership: Exposition and Event Managers and Suppliers
Membership Qualifications: Application Process
Recognized Designations/Certifications: CEM – Certified in Exposition Management
International Affiliations: International Association of Exhibitions & Events (IAEE)
Annual Convention: Held in various cities across Canada in June. 
Description: 
The Canadian Association of Exposition Management (CAEM) is the national association for professionals involved in the production, management, and planning of trade and consumer shows, and for events of a similar size and scale.
As a national association whose success can be attributed to its dedicated members, resources, and staff, CAEM has the capacity to provide industry-specific services and programs tailor-made to meet the needs of event professionals.
These lucrative benefits include: 
 Health and Safety Best Practices Guidelines
 Health and Safety Courses
 Professional Courses and Certifications Leading to the CEM Designation
 Industry-Specific Education
 Networking Opportunities
 Buyers' Information to Source Industry-Specific Suppliers & Services
 Industry Recognition Programs
 Representation on Legislative and Regulatory Issues